Mt. Sinai
Pastor Mark Jeske
Six months after the great exodus from Egypt, as the giant columns of marchers slowly straggled eastward through the wilderness, God called a halt near the base of Mt. Sinai. The Israelites who lived through that experience would never forget it. It was there that God formed his covenant relationship with them. It was there that this ragtag mass of ex-slaves became the nation of Israel, bearing the name of the Lord.

To gain their respect, God created dark, billowing clouds over the mount. Thunder boomed and lightning bolts cracked down from the summit. Eerie trumpet blasts split the air and the earth quaked. The Israelites were terrified. Then they heard God speak his Ten Commandments in a voice so overwhelming that they begged Moses to ask him to stop. Moses went up the mount to intercede.

But the Sinai experience was not all intimidation and law. Even before the earth began to shake, Moses had gone up the mount to speak with God: "The Lord called to him from the mountain and said, '. . . Although the whole earth is mine, you will be for me a kingdom of priests and a holy nation'" (Exodus 19:3,5,6). That's how God thought of the Israelite nation—royalty, priests, holy. They were the future princes and princesses of heaven; they were chosen for priestly service; and they were holy, sanctified by the blood of lambs representing the Lamb.

You are God's holy, royal priests too.
---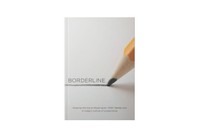 Draw the line at those "little" deadly sins!
Borderline is a warmly conversational, yet thought-provoking new book that will inspire you and perhaps even reset your views on the borderline issues. And it'll remind you all over again of the power of God's unconditional love and grace to help guide you through.
For more from Time of Grace visit them at TimeofGrace.org.