Mt. Ebal
Pastor Mark Jeske
Moses knew from the Lord that he was within days of his death. He spent most of his remaining time teaching the Israelites in the mammoth farewell addresses called Deuteronomy in the Bible. As prompted by the Lord, he instructed the people to carry out an unusual but dramatic learning exercise.

Moses would be buried east of the Jordan, but their future lay on the other side. "When you have crossed the Jordan into the land the Lord your God is giving you, set up some large stones and coat them with plaster. Write on them all the words of this law. . . . And when you have crossed the Jordan, set up these stones on Mount Ebal" (Deuteronomy 27:2-4). Mt. Ebal, at 3,084 feet towering over the city of Shechem to the north, would have the shrine of God's law. Six tribes were to stand on Mt. Ebal; as the Levites shouted God's curses on evil behaviors, the people of Reuben, Gad, Asher, Zebulun, Dan, and Naphtali would cry out, "Amen!"

Even the people who were not able to possess a written copy of the Torah (Scriptures) would have this shrine as a point of reference for the commandments of God. Today the Bible is our Mt. Ebal. Anyone who can read or even listen will hear the living voice of God today as powerfully as any Israelite ever did.

Disobedience to the will of God brings his curses now as then.
---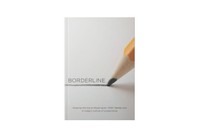 Draw the line at those "little" deadly sins!
Borderline is a warmly conversational, yet thought-provoking new book that will inspire you and perhaps even reset your views on the borderline issues. And it'll remind you all over again of the power of God's unconditional love and grace to help guide you through.
For more from Time of Grace visit them at TimeofGrace.org.