Words that Edify
Someone might say, "The culture is changing. It is too difficult to raise children in such an evil culture." But is it really any different than what Paul described in Romans chapter 1? When I read that chapter very carefully it is almost as though I am reading the front page of the New York Times. As Ecclesiastes repeatedly warns, "There is nothing new under the sun…all is vanity." The environment in which we sin may change but the sin nature remains the same.
Raising children in this culture may be tougher than when my generation raised our kids because of the communication and technology that is available to our children. Knowledge has increased and with it so has our use of many words. Prior to the invention of the Internet children were still able to hurt one another with words but they could get away from the hurt by going home. But now those painful attacks are 24/7. If they are connected through technology, they are exposed to immature and mean spirited communication without a break. Facebook, Twitter, Instagram and social media outlets have become the forums for children to spew their hatred against their "friends" on line. Words, or should I say someone else's words often define who we are and how we view ourselves. This is probably true of your children as well as mine. Words can injure. Words can impugn the character of another. Words can assault a child's heart. Words can shape the self-worth of a child. Words can wreck the future of a child.
Words can hurt and words can heal. Keep watch over the interaction of your children on social media. Remember that when you were growing up, other people did not have 24/7 access to your heart and mind. But today, even in the middle of the night your child can access what others think of them through social media or they can help hurt another person through that same medium.
Use the power of communication in your child's life. Ephesians 4:17–32 instructs us concerning our use of words. This great communication passage speaks of speech that edifies or builds up another as the only legitimate form of speech. What sort of speech comes out of your mouth? Does your speech build up or edify your child? Does your speech toward your spouse edify or build up your spouse? As parents relate to one another they help to shape their child's understanding and expectation of their future spouses. Ask God to show you how to use your speech as an antidote to the "words that hurt" that might be thrown at your children.
Words can impress upon your children the love of Christ or the hatred of Satan. Study Ephesians chapter 4 very carefully. The principles of communication outlined in these verses are critical to raising children who know, love and fear God.
DIGGING DEEEPER: Ephesians 4:25-32, ESV
Therefore, having put away falsehood, let each one of you speak the truth with his neighbor, for we are members one of another. 26 Be angry and do not sin; do not let the sun go down on your anger, 27 and give no opportunity to the devil. 28 Let the thief no longer steal, but rather let him labor, doing honest work with his own hands, so that he may have something to share with anyone in need. 29 Let no corrupting talk come out of your mouths, but only such as is good for building up, as fits the occasion, that it may give grace to those who hear. 30 And do not grieve the Holy Spirit of God, by whom you were sealed for the day of redemption. 31 Let all bitterness and wrath and anger and clamor and slander be put away from you, along with all malice. 32 Be kind to one another, tenderhearted, forgiving one another, as God in Christ forgave you.
SPECIAL OFFER
Autistic Spectrum Disorders: Speaking Hope In this one hour long interview two sets of parents share how they learned their children had a form of autism and how that diagnosis impacts their lives.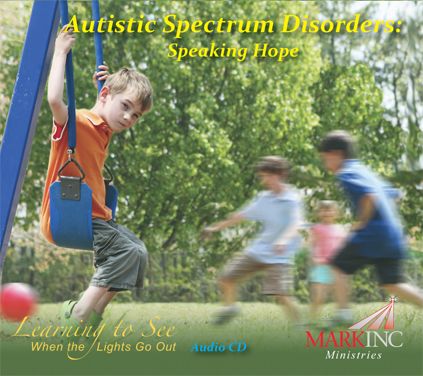 For more information from In His Grip with Dr. Chuck F. Betters please visit http://www.markinc.org/