March 27-28
Eternal Life: You Can Be Sure 
John 3:16-17
I have heard many reasons why people are uncertain about their eternal future. "I sin too much," says one. "I don't feel saved, Pastor," says another. Someone else worries that she did not follow the "right procedure" to ask for forgiveness. Still others have erroneously learned from their families or churches that no one can be sure of salvation.
My response to all of these rationales is the same: If you believe that Jesus Christ is the Son of God and that His death on the cross purchased God's forgiveness for your sins, then you are saved. And you can be sure.
God's promises never change. He said that those who trust in His Son would have eternal life (John 5:24). What's more, a believer cannot be snatched from God's hand (John 10:27-30).
The Lord loves us unconditionally. Nothing can separate a believer from God's love (Rom. 8:35-39). Satan's charges against us can never change how precious we are to our Father.
The Savior's work on the cross is finished. Jesus Christ made one perfect sacrifice—His own life. In this single act, He atoned for every sinful deed, word, and thought (Heb. 9:11-12, 26). When we receive His salvation, it is ours forever.
God loved us so much that He sent His Son to die for our sins so we could live eternally in His presence. It really is that simple. Whatever your doubts, ask the Holy Spirit to confront them with biblical truth. He will quietly assure your heart that you are God's child forever (Rom. 8:16).
For more biblical teaching and resources from Dr. Charles Stanley, please visit www.intouch.org.
Click here to watch Dr. Charles Stanley & In Touch Ministries Video Online
and
click here to listen to Dr. Stanley at OnePlace.com.
FEATURED RESOURCE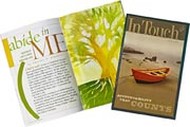 In Touch Magazine
Stories that Inspire, Teaching that Renews
If you like Dr. Charles Stanley's radio program, TV broadcast and books, then you'll love his free, award-winning monthly magazine. It's full of informative resources that will touch your heart and invigorate your faith. Every month, In Touch magazine brings readers daily devotionals from Dr. Stanley, in-depth Bible studies, inspiring articles and insightful teaching to help strengthen your family and your relationship with God. Click below to start your free subscription to In Touch magazine. 

Used with permission from In Touch Ministries, Inc. © 2009 All Rights Reserved.