April 10-11, 2010
Learning to Know God 
Jeremiah 9:23-24
Today's verses reveal that the Lord's top priority for us is to know and understand Him. This is a lifelong pursuit which extends all the way into eternity (John 17:3). If someone asked me, "Do you know God?," I'd have to say that I am learning about Him. My relationship with the Lord is becoming more exciting and satisfying as the years go by, but I realize that I have much more to discover about my Savior.
Since the Lord reveals Himself in His Word, that is where we need to start. Our understanding of who God is must match what Scripture says about Him; otherwise, we have deceived ourselves by trying to make the Lord into our own image. Descriptions of His characteristics and methods are scattered throughout the Bible. As you read, look for His attributes, desires, and ways. Consider how He responds in various circumstances. 
Spend time interacting with the Lord in prayer and meditation. Discuss any insights you have received, ask Him about the concepts you don't understand, and consider how to apply what you have learned. Those who are willing to obey His commands and follow His guidance will discover how faithful He is. They'll also find that He is their most intimate friend.
Amazingly, the Creator and Ruler of the universe wants to spend time with you so that you can learn to know Him. It's as if He is saying, "I want you all to Myself for a little while." Take Him up on the invitation to come away to a quiet place and learn of Him. 
For more biblical teaching and resources from Dr. Charles Stanley, please visit www.intouch.org.
Click here to watch Dr. Charles Stanley & In Touch Ministries Video Online
and
click here to listen to Dr. Stanley at OnePlace.com.
FEATURED RESOURCE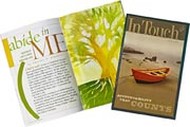 In Touch Magazine
Stories that Inspire, Teaching that Renews
If you like Dr. Charles Stanley's radio program, TV broadcast and books, then you'll love his free, award-winning monthly magazine. It's full of informative resources that will touch your heart and invigorate your faith. Every month, In Touch magazine brings readers daily devotionals from Dr. Stanley, in-depth Bible studies, inspiring articles and insightful teaching to help strengthen your family and your relationship with God. Click below to start your free subscription to In Touch magazine. 

Used with permission from In Touch Ministries, Inc. © 2009 All Rights Reserved.