April 13
From Glory to Humility 
Philippians 2:3-11
In order to save mankind and shower grace upon the undeserving, Christ had to make a voluntary choice to leave heaven and become a man. He took upon Himself the weakness of humanity while never losing His divinity. Though still fully divine, He did not cling to equality with God but limited the use of His supernatural powers and rights.
Having an incomplete understanding of all that Christ surrendered, we often lack an appreciation of the magnitude of His descent from the riches of glory to the poverty of humanity. He traded the praise and worship of the angelic host for the mockery and jeers of an angry mob. Laying aside His omnipotence, He experienced the weakness of fatigue and the need for sleep. Being immortal but wanting to pay our sin-debt, He had to take on human flesh in order to die for you and me.
The One who had authority over all creation (Col. 1:16-17) walked this earth in complete submission to the Father's will (John 5:19, 30), "becoming obedient to the point of death" (Phil. 2:8). Instead of relying on His own strength, He depended on the power of God (Acts 2:22). Jesus' manner of living not only accomplished our salvation but also gave us an example to follow.
Every believer has a choice to make: Will I live my way and demand my rights, or will I empty myself and submit to God? Only by humbling ourselves in submission and obedience to the Father will we experience the joy of the Lord and the glories of His eternal rewards in heaven. 
For more biblical teaching and resources from Dr. Charles Stanley, please visit www.intouch.org.
Click here to watch Dr. Charles Stanley & In Touch Ministries Video Online
and
click here to listen to Dr. Stanley at OnePlace.com.
FEATURED RESOURCE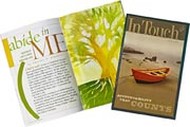 In Touch Magazine
Stories that Inspire, Teaching that Renews
If you like Dr. Charles Stanley's radio program, TV broadcast and books, then you'll love his free, award-winning monthly magazine. It's full of informative resources that will touch your heart and invigorate your faith. Every month, In Touch magazine brings readers daily devotionals from Dr. Stanley, in-depth Bible studies, inspiring articles and insightful teaching to help strengthen your family and your relationship with God. Click below to start your free subscription to In Touch magazine. 

Used with permission from In Touch Ministries, Inc. © 2009 All Rights Reserved.