In Touch Daily Devotional
by Dr. Charles Stanley
---
April 18, 2007 – A Real Enemy – 1 Peter 5:8-9
            One of the most damaging, erroneous images in our popular culture is the cartoonish picture of a little devil. He's dressed in a red body suit with a pointy tail and holding a pitchfork. Sadly, that's the image many people have of their spiritual enemy. But this cute little caricature couldn't be farther from the truth. 
            If we want to be victorious in our Christian lives, then we must clearly identify our enemy. And Scripture is clear the enemy isn't a single little demon but an entire union of evil spirits. 
            Jesus cast out demons many times in the Gospels. Over and over again, we read about Him and His disciples speaking with authority over multiple evil spirits. Why do we read these accounts and praise God for His demonstrations of power, but forget those demonic forces are still active today? 
            You may believe only in what you can see. If that's true, then you're in serious trouble. Satan works best undercover. If you see a beast racing to attack you, then you'll quickly run away. But the enemy's tactics are different. He hides and hits you slowly and subtly, in such a way that you can't really see or identify him. Then, he can lead you wherever he wants. 
            Do you take your spiritual opposition seriously? You have a wild animal prowling around you every day, waiting to devour you. Can you see it? Open your eyes to your real enemy today.  
FEATURED RESOURCE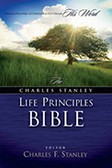 The Life Principles Bible
This Bible combines the wisdom of Scripture with the principles that guide Dr. Stanley's life and empower his ministry. Order your copy.
To see more resources from In Touch Ministries, please visit us at www.intouch.org or go directly to our bookstore at In Touch Ministries.