In Touch Daily Devotional
by Dr. Charles Stanley
---
April 25, 2007 – Preparation for Battle – John 16:33
            Every morning, believers are at war. According to Scripture, spiritual warfare is certain. Yet some Christians fail to take it seriously. But the Word is clear that each day, we awaken to a real, personal battle. 
            Failure to recognize this vital truth results in painful defeat time and again. Some dedicated Christians may get confused and frustrated because they continually experience failure in their spiritual lives. Just when they believe they've overcome temptation, it rises up to defeat them again. 
            One of the main reasons the Enemy defeats Christians is because he catches them off guard. These believers go about their days without giving a single thought to the war being waged in their own lives. 
            At the same time, they may develop a hardened attitude toward the Scriptures. Some might say, "God, if Your Word is as powerful as You say, then why isn't it working in my life?" 
            The issue isn't that the Word lacks influence. The problem is, we often fail to recognize the intense spiritual battle taking place. We're at war. And it's a fight for our spiritual lives. The only way we can survive this conflict is by preparing for combat. 
            How seriously do you take spiritual conflict? I challenge you to watch for spiritual attacks today. They should be easy to spot. In this weekend's devotional, we'll learn exactly how to pray using the armor of God.
FEATURED RESOURCE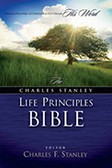 The Life Principles Bible
This Bible combines the wisdom of Scripture with the principles that guide Dr. Stanley's life and empower his ministry. Order your copy.
To see more resources from In Touch Ministries, please visit us at www.intouch.org or go directly to our bookstore at In Touch Ministries.