In Touch Daily Devotional
by Dr. Charles Stanley
---
April 25, 2008 - How to Give - 2 Corinthians 8:1-6
Welcome to the In Touch Devotional.
The first-century church in Jerusalem was impoverished. Jews who became Christians were often ostracized. Their businesses suffered. This affected local giving and increased the number of poor. As the church grew, resources were spread thinner.
As the apostle Paul traveled, he asked his congregations to aid the mother church. Some of these believers were also in financial crisis, but they pledged help for Jerusalem anyway.
 From 2 Corinthians chapter 8:10, we know the Corinthian church was among those that agreed to send support. To inspire them to meet or exceed their goal, Paul described the Macedonians' sacrificial giving as an example. He noted that despite being poor, that church managed to give beyond its ability. They did so with joy.
The Macedonians' gift was liberal, compared to its resources. It was like the widow whom Jesus praised for giving her last coins to the temple treasury in Mark chapter 12:43. The congregation trusted God to provide the gift and to continue meeting their needs.
Modern believers have much to learn from the Macedonians' example. The amount we donate towards God's work is less important than our feelings about giving. Generosity is a quality of the heart. It's an attitude that grows out of a believer's thankfulness for the Lord's spiritual and material provisions.
God wants us to be givers because the act of charity spiritually enriches the benefactor. The Lord will pour blessing upon a generous heart, according to His promise in Luke 6:38. The verse says "By your standard of measure it will be measured to you in return."
FEATURED RESOURCE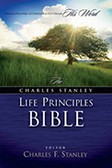 The Life Principles Bible
This Bible combines the wisdom of Scripture with the principles that guide Dr. Stanley's life and empower his ministry. Order your copy.
To see more resources from In Touch Ministries, please visit us at www.intouch.org or go directly to our bookstore at In Touch Ministries.