April 26
A Special Purpose 
Psalms 150
The Lord has made us a special people in order that we may fulfill a special purpose. Isaiah 43:21 says, "The people I formed for Myself will declare My praise." An integral part of worshiping the Lord is proclaiming His greatness.
To praise our Father is to applaud Him for who He is and what He has done. This involves the release of our emotions, which frees us to express unrestrained adoration of the Lord. When someone loves another person, the most natural response is to speak highly about the cherished one. In the same way, those who love Christ find that praise comes easily to their lips.
Praising the Lord is good for us. In our self-centered society, people are primarily interested in getting their own needs met. Sadly, this same attitude has infiltrated some churches. But God doesn't want us to come to church concerned only about ourselves. Praise lifts our eyes to Christ and fills our hearts with the contentment that eludes us when we focus exclusively on personal needs and problems.
Although praise and worship are usually associated with church services, they ought to characterize us wherever we are. Some of the most intimate and precious experiences of worship can happen during times spent alone with God.
If you find that your praise lacks vitality, tell the Lord you want to learn to extol Him with your whole heart. The focus of worship is the key. Remember how God has cared for you, and look for daily evidence of His hand on your life. Then tell Him how great He is.
For more biblical teaching and resources from Dr. Charles Stanley, please visit www.intouch.org.
Click here to watch Dr. Charles Stanley & In Touch Ministries Video Online
and
click here to listen to Dr. Stanley at OnePlace.com.
FEATURED RESOURCE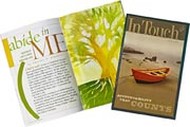 In Touch Magazine
Stories that Inspire, Teaching that Renews
If you like Dr. Charles Stanley's radio program, TV broadcast and books, then you'll love his free, award-winning monthly magazine. It's full of informative resources that will touch your heart and invigorate your faith. Every month, In Touch magazine brings readers daily devotionals from Dr. Stanley, in-depth Bible studies, inspiring articles and insightful teaching to help strengthen your family and your relationship with God. Click below to start your free subscription to In Touch magazine. 

Used with permission from In Touch Ministries, Inc. © 2009 All Rights Reserved.