December 12-13 
Doubting God's Goodness 
Genesis 3
Living in this fallen world can challenge our faith in God's goodness. The pain and suffering that resulted from Adam and Eve's sin may cloud our understanding of the Lord and tempt us to blame Him for every difficulty. Then we might wonder why He doesn't always relieve hardship, fix our problems, and give us what we want.
When Eve listened to the serpent's lies, she began to doubt that the Lord had made the right choice in forbidding her to eat from the tree of the knowledge of good and evil. Why would He deprive her of wisdom and the enjoyment of food that looked so desirable?
Our thoughts are similar to Eve's when we do not agree with our Father about what is best for us. From a human perspective, "good" refers to that which is enjoyable, delightful, comfortable, or profitable. But God has a much higher standard and is always working to achieve His purpose—to develop Christ-like character within
His children.
Behind every restriction or commandment from the Lord is His loving care for His followers. He knows the tormenting consequences of sin and wants to deter us from rebellious choices that will wreck our lives. In refusing His will, we choose pain and trouble.
Eve learned through disobedience that God knows what is best. We have opportunity each day to discover His goodness by listening to His voice, obeying His commands, and trusting His wisdom. Whatever comes our way, we can know that He is working for both our temporal and eternal good.
For more biblical teaching and resources from Dr. Charles Stanley, please visit www.intouch.org.
Click here to watch Dr. Charles Stanley & In Touch Ministries Video Online
and
click here to listen to Dr. Stanley at OnePlace.com.
FEATURED RESOURCE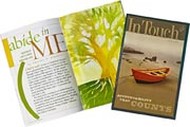 In Touch Magazine
Stories that Inspire, Teaching that Renews
If you like Dr. Charles Stanley's radio program, TV broadcast and books, then you'll love his free, award-winning monthly magazine. It's full of informative resources that will touch your heart and invigorate your faith. Every month, In Touch magazine brings readers daily devotionals from Dr. Stanley, in-depth Bible studies, inspiring articles and insightful teaching to help strengthen your family and your relationship with God. Click below to start your free subscription to In Touch magazine. 

Used with permission from In Touch Ministries, Inc. © 2009 All Rights Reserved.