In Touch Daily Devotional 
by Dr. Charles Stanley
---
December 13, 2006
God's Will for Us
Before Creation, God ordained Jesus' coming to earth, His death on the cross, and our redemption. He also planned work for each of us to do, which is for our good and His glory. (Ephesians 2:10) To accomplish His plans, God equips us with different spiritual gifts. He also provides the Holy Spirit to help us understand and follow His moral and personal will for us.
First, let's examine His moral will, which applies to all of us. Through the Scriptures, He gives us clear requirements for living a God-honoring life. These include proper sexual behavior (1 Thessalonians 4:3), a thankful attitude (1 Thessalonians ), a forgiving mindset (Ephesians ), a servant's heart (Galatians ), and involvement in a local church. (Hebrews 10:25) We need to pay attention to the commands and warnings of Scripture in order to know and obey the Lord's moral will.
Second, God has designed a personal will for every one of us that begins at birth. Our personality, abilities, vocation, marital status, and even lifespan are built into His plan. He sees each individual as having great value and willingly invests Himself in His children's lives through the indwelling Holy Spirit. He calls us to fulfill His personal will and commits Himself to working for our very best.
God's plan isn't derailed by difficult circumstances or even by our sinful behavior. He is sovereign and weaves all factors together to accomplish what He has ordained. (Romans 8:28) God wants to direct our path each step of the way. (Proverbs 3:5-6) Are you seeking His guidance on a daily basis?
FEATURED RESOURCE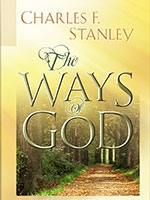 The Ways of God
from Dr. Charles Stanley
God's ways are always perfect, and following them leads to fulfillment and success. One of life's undeniable truths is that your choices will ultimately determine your future. While you can decide for yourself what career field to enter or who to marry, nothing compares with seeking God first and relying on the wonderful principles of His Word. In this series, Dr. Stanley teaches that as you serve God and seek His ways, you'll be blessed with peace, wisdom, and guidance for the journey ahead. Order here  now!
To see more resources from In Touch Ministries, please visit us at www.intouch.org  or go directly to our bookstore at In Touch Ministries.