In Touch Daily Devotional 
by Dr. Charles Stanley
---
December 14, 2006
The Purpose of Christ's Coming
If believers are living under grace, why is the Old Testament—the Law in particular—still part of our Bible? The reason is that the life and death of Jesus Christ fulfilled God's Law.
First, Jesus was personally obedient. The Pharisees accused Christ of disobeying some of their man-made additions to the legal code. But He flawlessly followed Mosaic Law as given by God. This is an important distinction since Jesus cannot be called a holy and blameless sacrifice unless He was totally submissive to the Father.
Second, Jesus died on the cross as a sacrifice. The Law clearly stated that death is the penalty for sin. (Genesis 2:17) But One who was perfect in keeping the Law could receive the punishment in place of one who sinned. That is exactly what Jesus Christ did for every believer. And through His death, He fulfilled God's lawful requirement.
Third, Christ amplified God's moral law. Through His example and teachings, Jesus explained that the moral law was more than just a set of rules to follow. The Father's commands are guiding principles for a successful life.
For example, the Israelites avoided adulterous acts in order to keep the seventh commandment. But in Matthew 5: 28, the Lord said that someone who lusts after another person has already committed adultery in the heart. The life principle here is purity.
Old Testament reading is essential for all believers today. We cannot truly understand the story of Jesus Christ until we become familiar with the Law He came to fulfill.
FEATURED RESOURCE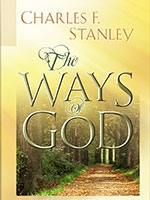 The Ways of God
from Dr. Charles Stanley
God's ways are always perfect, and following them leads to fulfillment and success. One of life's undeniable truths is that your choices will ultimately determine your future. While you can decide for yourself what career field to enter or who to marry, nothing compares with seeking God first and relying on the wonderful principles of His Word. In this series, Dr. Stanley teaches that as you serve God and seek His ways, you'll be blessed with peace, wisdom, and guidance for the journey ahead. Order here  now!
To see more resources from In Touch Ministries, please visit us at www.intouch.org  or go directly to our bookstore at In Touch Ministries.