December 17 
The Ruin of Rebellion
Galatians 6:7-10
Rebelling against the Lord is costly. The divine law of consequences is that a person reaps what he sows, more than he sows, and later than he sows. And the principle is unchangeable whether you believe in God or not.
A prevailing attitude of our modern culture is that rules prevent people from having a good time. That is certainly not the Lord's intention. In fact, He offers true freedom through a relationship with Him. Our loving heavenly Father desires to keep His children growing in their faith and safe from the Devil's temptations and worldly influences. He does that by limiting our actions and commanding that we follow certain laws and principles, which He has designed for our good. There is no greater pleasure or source of contentment than serving Him.
On the other hand, rebellion is a form of slavery. By defying God's authority in some area of our life, we allow Satan to shackle us. We may not feel the constraint of his trap at first, but keep in mind that divine law of consequences. Eventually, we will be heavily burdened by our sin. Whether the penalty ends up being carried in the body, mind, heart, or spirit, we will find ourselves distracted from wholly serving the Lord (Mark 12:30).
God takes disobedience seriously because the consequences are so grave. As the Sovereign of the universe and our loving Father, He has only our best in mind. So rebelling against Him is foolish. Wise men and women live by His Word and obey (Ps. 119:9).
For more biblical teaching and resources from Dr. Charles Stanley, please visit www.intouch.org.
Click here to watch Dr. Charles Stanley & In Touch Ministries Video Online
and
click here to listen to Dr. Stanley at OnePlace.com.
FEATURED RESOURCE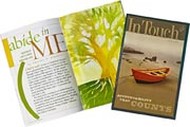 In Touch Magazine
Stories that Inspire, Teaching that Renews
If you like Dr. Charles Stanley's radio program, TV broadcast and books, then you'll love his free, award-winning monthly magazine. It's full of informative resources that will touch your heart and invigorate your faith. Every month, In Touch magazine brings readers daily devotionals from Dr. Stanley, in-depth Bible studies, inspiring articles and insightful teaching to help strengthen your family and your relationship with God. Click below to start your free subscription to In Touch magazine. 

Used with permission from In Touch Ministries, Inc. © 2009 All Rights Reserved.