In Touch Daily Devotional 
by Dr. Charles Stanley
---
December 18, 2006
Jesus' Offering of Peace
If you're brave enough, stand on a sidewalk and ask people walking by, "What gives you peace?" The answers you receive will most likely have one thing in common: the average person's definition of peace is dependent upon circumstances—a solid relationship with a spouse, a well-paying job, or good health. So, what happens if a couple fights, the company lays off employees, or sickness strikes the body?
Peace that's rooted in good situations isn't really peace at all. It's a brittle kind of harmony between man and the world, and it crumbles very easily. Jesus Christ offers true peace—a lasting contentment that is unbreakable, no matter what happens.
However, a sinful life makes peace impossible. A person cannot experience the promise of God's care when he or she is acting in defiance of His will. So when a believer expresses faith in Jesus, the war for self-rule ends.
Submission to the Lord allows His peace to fill your life. When the Holy Spirit lives within us, we can approach everything in life with confidence and serenity. The only way to get this lasting peace is through a relationship with Jesus Christ.
In Romans 5:1, Paul explains that to be justified—that is, declared no longer guilty— we must accept the sacrifice Christ made in our place. Justification makes us right with God and opens our hearts to peace.
Have you told God you recognize His Son's loving sacrifice was made on your behalf? If not, then you do not have real peace. Now is the right time to surrender to Him.
FEATURED RESOURCE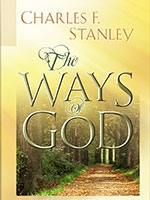 The Ways of God
from Dr. Charles Stanley
God's ways are always perfect, and following them leads to fulfillment and success. One of life's undeniable truths is that your choices will ultimately determine your future. While you can decide for yourself what career field to enter or who to marry, nothing compares with seeking God first and relying on the wonderful principles of His Word. In this series, Dr. Stanley teaches that as you serve God and seek His ways, you'll be blessed with peace, wisdom, and guidance for the journey ahead. Order here  now!
To see more resources from In Touch Ministries, please visit us at www.intouch.org  or go directly to our bookstore at In Touch Ministries.