In Touch Daily Devotional 
by Dr. Charles Stanley
---
December 20, 2006
The Lord Will Reveal His Will
It's sad when believers claim the Lord's will is a mystery. In reality, the opposite is true. God is committed to making clear His plan for your life.
The primary source for God's revelation is His Word. Divine principles for a successful life are found in the Bible. So the more we make a habit of reading of it, the better equipped we are to honor God in our daily decisions.
Reading Scripture is part of sharing a good relationship with our heavenly Father. Too often, we want to flip open the book, find the answer for a problem we're facing, and move on. We pray with the same kind of self-centered urgency. Then, when God is silent, we wonder why.
Living in the Lord's will is about more than getting directions for a major decision. We always need to be asking, "God, what are You teaching me today, and what would You have me do with that knowledge?" The answer to those questions comes through meditation, an essential practice for the believer. We need to dwell on scripture and ask the Holy Spirit how it can be applied in our life.
By routinely living and making decisions according to God's principles, we walk in His will. Sometimes, we treat God like the clerk at an information desk. We want fast, easy answers to our big questions. And then, we'd like to be on our way. But that's not how the Lord works. If we want to be able to determine His will, we must be in the habit of seeking it.
FEATURED RESOURCE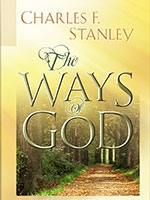 The Ways of God
from Dr. Charles Stanley
God's ways are always perfect, and following them leads to fulfillment and success. One of life's undeniable truths is that your choices will ultimately determine your future. While you can decide for yourself what career field to enter or who to marry, nothing compares with seeking God first and relying on the wonderful principles of His Word. In this series, Dr. Stanley teaches that as you serve God and seek His ways, you'll be blessed with peace, wisdom, and guidance for the journey ahead. Order here  now!
To see more resources from In Touch Ministries, please visit us at www.intouch.org  or go directly to our bookstore at In Touch Ministries.