December 21 
A Defense Against Temptation 
1 Corinthians 10
Experiencing temptation is universal and unavoidable. One cannot hide since there's no environment on earth free from its pull. You can never completely eliminate the enticement because wherever you run, your "flesh" goes with you. However, yielding to the lure is optional.
The Lord has promised to either provide a way of escape or limit the intensity of the temptation so you can endure it (v. 13). Sometimes that means a literal removal of the enticement as you wisely flee the situation. At other times, the circumstance remains, but He will provide everything you need to bear up without yielding. God is not the source of temptation, but He does allow it for the purpose of maturing and strengthening His children.
Every believer must learn to resist when tempted and to build a defense system for such situations. The way to begin is with self-examination:
• What are your areas of weakness? The Devil doesn't use the same approach on everyone. He tailors his enticements to fit each individual's area of vulnerability.
• When are you weakest? Satan never plays fair. He always attacks when you are down. Just think of the acronym HALT, and be on guard whenever you are hungry, angry, lonely, or tired.
The greatest defense against temptation is the Word of God. Jesus quoted Scripture to silence Satan's lies (Matt. 4:1-11). Start each day on your knees: ask the Lord to build His truth into your life and provide the ammunition from His Word which will allow you to live in victory. 
For more biblical teaching and resources from Dr. Charles Stanley, please visit www.intouch.org.
Click here to watch Dr. Charles Stanley & In Touch Ministries Video Online
and
click here to listen to Dr. Stanley at OnePlace.com.
FEATURED RESOURCE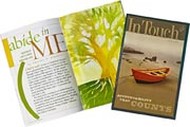 In Touch Magazine
Stories that Inspire, Teaching that Renews
If you like Dr. Charles Stanley's radio program, TV broadcast and books, then you'll love his free, award-winning monthly magazine. It's full of informative resources that will touch your heart and invigorate your faith. Every month, In Touch magazine brings readers daily devotionals from Dr. Stanley, in-depth Bible studies, inspiring articles and insightful teaching to help strengthen your family and your relationship with God. Click below to start your free subscription to In Touch magazine. 

Used with permission from In Touch Ministries, Inc. © 2009 All Rights Reserved.