December 26-27 
Living by Faith 
Matthew 21:18-22
In Mark 9:17-26, we read about a father whose son was possessed by a demon. The man came to Jesus, asking Him to heal the boy, if it was possible. The Lord lovingly shared that He could accomplish anything if the man had faith. The dad responded, "I do believe; help my unbelief."
What a revealing statement. Even Christians will experience some doubt with regard to God's ways, truth, or ability. Thankfully, He is gracious and meets His children where they are.
But the Bible is clear that doubt causes difficulty. First, it affects the believer's fellowship with God. Second, disbelief thwarts one's prayer life, as the Lord does not answer a doubting heart. Third, uncertainty can lead to dependence upon the flesh and, therefore, inhibits fruitful service. All of these can lead to discouragement.
Let's explore how to overcome a lack of assurance. Prayerfully consider what causes you to question. For example, were you taught something untrue such as an "all law, no grace" understanding of God? Or perhaps there is not enough of His Word hidden in your heart. Now, recall a time when you trusted the Lord and He responded; remember how it felt to rely totally upon Him. And, most importantly, meditate upon Scripture.
God wants you to walk in the freedom of faith—full confidence in Him. This eliminates anxiety because the almighty, all-knowing, loving Father is able to guide, strengthen, and lead His children to victory. If you haven't been living with belief, start today. Don't miss out on His best! 
For more biblical teaching and resources from Dr. Charles Stanley, please visit www.intouch.org.
Click here to watch Dr. Charles Stanley & In Touch Ministries Video Online
and
click here to listen to Dr. Stanley at OnePlace.com.
FEATURED RESOURCE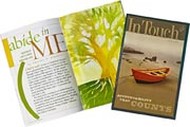 In Touch Magazine
Stories that Inspire, Teaching that Renews
If you like Dr. Charles Stanley's radio program, TV broadcast and books, then you'll love his free, award-winning monthly magazine. It's full of informative resources that will touch your heart and invigorate your faith. Every month, In Touch magazine brings readers daily devotionals from Dr. Stanley, in-depth Bible studies, inspiring articles and insightful teaching to help strengthen your family and your relationship with God. Click below to start your free subscription to In Touch magazine. 

Used with permission from In Touch Ministries, Inc. © 2009 All Rights Reserved.