In Touch Daily Devotional 
by Dr. Charles Stanley
---
December 28, 2006
Essentials of Effective Meditation
You may wonder, How can I incorporate genuine meditation into my Christian life? Dr. Stanley believes there are several essentials of meditating that will reap tremendous benefits in your walk of faith. Here are three of them.
The first is a season of time. Do you hurry through your prayer time so you can get to other things? Think about the model Jesus gave us. Did He ever rush through His time with the Father? No, Jesus made it His priority, and everything else fell into place around that.
A second essential to meditating on God is stillness. We find the call to stillness in Psalm 46:10. But still, we may wonder, What does it mean to "be still"? Simply put, stillness means we stop everything else. This can be difficult in the fast-paced, multi-tasking world we live in. We've gotten used to doing a dozen things at once! However, true meditation requires that we focus our minds on only one thing: almighty God.
A third essential to meditation is seclusion. This is something the Lord really had to fight for in His ministry. He was constantly surrounded by people. While always attending to their needs, He also guarded His need for seclusion.
Often in the Gospels, we read about Jesus retreating for some private, intimate time with the Father. No matter what else was going on, Jesus always made a point to safeguard chunks of time here and there to rest in the Spirit, focus on His relationship with the Father, and build up His strength.
Is your prayer life characterized by seclusion, stillness, and time set apart and safeguarded? Commit today to build these essentials into your time with God.
FEATURED RESOURCE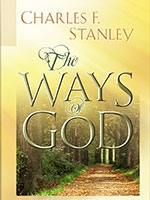 The Ways of God
from Dr. Charles Stanley
God's ways are always perfect, and following them leads to fulfillment and success. One of life's undeniable truths is that your choices will ultimately determine your future. While you can decide for yourself what career field to enter or who to marry, nothing compares with seeking God first and relying on the wonderful principles of His Word. In this series, Dr. Stanley teaches that as you serve God and seek His ways, you'll be blessed with peace, wisdom, and guidance for the journey ahead. Order here  now!
To see more resources from In Touch Ministries, please visit us at www.intouch.org  or go directly to our bookstore at In Touch Ministries.