In Touch Daily Devotional 
by Dr. Charles Stanley
---
December 30, 2006
The Rewards of Meditation
This month we have spent a good bit of time studying meditation. Now, you may be thinking, So what? How will meditating have a positive effect on my life? Consistent meditation has a number of benefits for the believer. Greater intimacy with the Lord is a key advantage of renewed devotion to seeking His will. But on the eve of a brand-new year, Dr. Stanley wants to emphasize one particular benefit: a changed perspective.
When we focus on knowing God—on spending time with Him and getting to know the way He thinks—something happens in our hearts and minds. Over time, we discover that our point of view begins to shift. We think about ourselves less and less. Instead, we place greater priority on God's goodness and the concerns of others. Our prayers tend to become God-focused rather than self-focused. And, they reveal a much more intimate relationship with our heavenly Father.
As the current year draws to a close and a new one begins, our prayer is that you will seek to develop spiritual eyes. As the apostle Paul wrote in Ephesians chapter one, we pray "the eyes of your heart may be enlightened" so you will perceive more clearly the riches found only in Christ. But how do you get these "enlightened eyes"? They develop as a natural result of your time with the Lord—through your solitude, silence, and surrender.
Do you need to recommit to know God better? Meditate regularly on His Word, and claim 2007 as your year of greatest spiritual growth yet.
FEATURED RESOURCE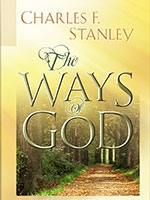 The Ways of God
from Dr. Charles Stanley
God's ways are always perfect, and following them leads to fulfillment and success. One of life's undeniable truths is that your choices will ultimately determine your future. While you can decide for yourself what career field to enter or who to marry, nothing compares with seeking God first and relying on the wonderful principles of His Word. In this series, Dr. Stanley teaches that as you serve God and seek His ways, you'll be blessed with peace, wisdom, and guidance for the journey ahead. Order here  now!
To see more resources from In Touch Ministries, please visit us at www.intouch.org  or go directly to our bookstore at In Touch Ministries.