In Touch Daily Devotional 
by Dr. Charles Stanley
---
December 31, 2006
The Struggle With Temptation
Everyone faces temptation. Even the Son of God was tempted by Satan to turn away from God. But Jesus saw through the enemy's schemes and remained firm in His love and devotion to the Father. (Luke 4:1-13)
    
One of the reasons Jesus came was to personally identify with our needs and struggles. He understands how you feel under the weight of temptation. He has faced the tempter and overcome the darkness and adversity associated with Satan's fiery trials.
    
When you face temptation, know that you do not face it alone. Jesus is with you, and He provides the strength you need to say no to every dark thought or evil imagination.
    
In times of temptation, when the enemy whispers lies to defeat and discourage, take your stand against him by clothing yourself in the mighty armor of God. (Ephesians 6) Also know that you can never disappoint God. He knows exactly what you are doing even before you do it, and He loves you still.
    
Temptation is not a sin. Sin is the result of our acting on the temptation. God provides the strength we need to steer clear of temptation. You can say no to all evil because Jesus lives in you, and He has given you the Holy Spirit to lead you into all truth and knowledge. Therefore, take your stand as a child of God and claim His strength and victory!
FEATURED RESOURCE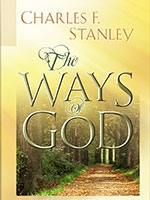 The Ways of God
from Dr. Charles Stanley
God's ways are always perfect, and following them leads to fulfillment and success. One of life's undeniable truths is that your choices will ultimately determine your future. While you can decide for yourself what career field to enter or who to marry, nothing compares with seeking God first and relying on the wonderful principles of His Word. In this series, Dr. Stanley teaches that as you serve God and seek His ways, you'll be blessed with peace, wisdom, and guidance for the journey ahead. Order here  now!
To see more resources from In Touch Ministries, please visit us at www.intouch.org  or go directly to our bookstore at In Touch Ministries.