In Touch Daily Devotional 
by Dr. Charles Stanley
---
December 4, 2006
Those Who Hurt
When we're in pain, we may question whether God cares or even knows what we're going through. Our difficult circumstances can give us a wrong view of Him. Scripture teaches that our three-in-one God is omniscient. In other words, He knows all things. No actions or persons are hidden from His sight. The past, present, and future are all laid out before Him. (Psalm 33:13-15; Hebrews 4:13)
1 Chronicles 28:9 tells us, "the Lord searches all hearts, and understands every intent of the thoughts." Because of this, He knows us intimately. And with His perfect knowledge, He understands what we really need. (Matthew 10:29-30) God's love and concern for us do not change, even if our pain has resulted from our own sinful actions.
Jesus repeatedly demonstrated God's loving concern for people. He met with Nicodemus, one of Israel's religious leaders. And without condemnation or accusation, Jesus showed him the way to God. (John 3:3) He also visited Zaccheus, a man whose financial dishonesty had hurt many. Jesus even initiated conversation with the Samaritan woman, a social outcast. He also delayed His journey in response to the cry of a blind beggar. He showed compassion to Bartimaeus and affirmed his faith.
Through what we saw Jesus do in his life, we can be sure our heavenly Father cares about us. God's love extends over us like a canopy. He wants us to come to Him with our questions and pain. Don't allow trials to cloud your thinking about God's deep concern for you. Accept Jesus' invitation and bring your burdens to Him. (Matthew 11:28)
FEATURED RESOURCE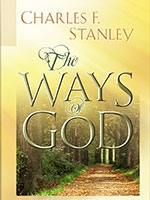 The Ways of God
from Dr. Charles Stanley
God's ways are always perfect, and following them leads to fulfillment and success. One of life's undeniable truths is that your choices will ultimately determine your future. While you can decide for yourself what career field to enter or who to marry, nothing compares with seeking God first and relying on the wonderful principles of His Word. In this series, Dr. Stanley teaches that as you serve God and seek His ways, you'll be blessed with peace, wisdom, and guidance for the journey ahead. Order here  now!
To see more resources from In Touch Ministries, please visit us at www.intouch.org  or go directly to our bookstore at In Touch Ministries.