December 7 
Freedom From Sin's Grasp 
Romans 6:11-14
Years ago, I found myself taking on too much responsibility. At first, I thought that revealed motivation and obedience. As weariness set in, however, I realized that I was actually adding my own tasks to what God was truly asking of me. In searching my heart, I recognized my true motive behind the excess work: an attempt to prove that I was adequate.
Insecurity, a sense of inadequacy, and lack of self-worth often lead to transgression. And the Bible tells us that a recurring pattern of wrongdoing indicates captivity to sin. So how can we break free from its hold?
Of course, freedom is impossible without Jesus. His death and resurrection bridged the gap that sin caused between us and God. With the Lord's help, we take these steps and walk on the road of restoration:
• First, recognize enslavement to sin. This can be difficult, as we may have a blind spot to things that are obvious to others.
• Second, trace sin to its root. Many times a lack of intimacy, identity, or self-worth will work its way to the surface, and we try to satisfy or escape those feelings.
• Third, choose to be free. This involves believing God's promise that He can liberate us. It also means becoming familiar with the truth of who Christ is—and who we are in Him.
Some people find freedom quickly, while others must embark on a journey toward liberty. But one thing is clear in both situations: The Lord will follow through on His promise. Do you believe He can break the enslavement of sin in your life? Choose freedom by faith in almighty God.
For more biblical teaching and resources from Dr. Charles Stanley, please visit www.intouch.org.
Click here to watch Dr. Charles Stanley & In Touch Ministries Video Online
and
click here to listen to Dr. Stanley at OnePlace.com.
FEATURED RESOURCE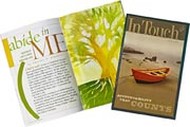 In Touch Magazine
Stories that Inspire, Teaching that Renews
If you like Dr. Charles Stanley's radio program, TV broadcast and books, then you'll love his free, award-winning monthly magazine. It's full of informative resources that will touch your heart and invigorate your faith. Every month, In Touch magazine brings readers daily devotionals from Dr. Stanley, in-depth Bible studies, inspiring articles and insightful teaching to help strengthen your family and your relationship with God. Click below to start your free subscription to In Touch magazine. 

Used with permission from In Touch Ministries, Inc. © 2009 All Rights Reserved.