February 17, 2009
How Comforters Are Created 
2 Corinthians 1
Job asked a challenging question in his time of suffering: "Shall we indeed accept good from God and not accept adversity?" (Job 2:10). Even hardship has a place in the Lord's plan.
During a particularly painful time in my life, I decided that I ought to glean something from my distress. That decision allowed the Lord to open up a well of compassion in my heart that I often dip from to comfort those facing similar trials.
I found great solace in Paul's words about our God, who "comforts us in all our affliction so that we will be able to comfort those who are in any affliction" (2 Cor. 1:4). Think about the kind of people you seek out when you feel hurt. You want someone who has felt your pain, right? A person who's walked the path we find ourselves on can understand our suffering and provide wise counsel. According to the apostle, passing through a "valley experience" prepares us to be a blessing and encouragement to those who must go through something similar later. What's required is that we accept the adversity He has placed in our way and choose to learn from the situation.
God is the Lord and Master of our life, and therefore, He has the right to use us as comforters and encouragers to those in our sphere of influence. As His servants, we must be willing to receive whatever training is necessary to complete His will, even when it hurts. Do not waste your suffering! Instead, use it to bring glory to the Lord. 
FEATURED RESOURCE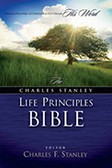 The Life Principles Bible
This Bible combines the wisdom of Scripture with the principles that guide Dr. Charles Stanley's life and empower his ministry. Order your copy.
To see more resources from In Touch Ministries, please visit us at www.intouch.org or go directly to our bookstore at In Touch Ministries.
Used with permission from In Touch Ministries, Inc. © 2008 All Rights Reserved.