In Touch Daily Devotional 
by Dr. Charles Stanley
---
January 12, 2007 
Testing Your Goals
1 Thessalonians 5:23
Dr. Stanley has always made it a practice in his life to set specific, measurable goals for the future. The things we want to accomplish certainly will not happen by accident. Instead, we should be diligent planners as we seek the Lord's guidance on what He wants us to achieve. And as He reveals these godly goals to us, we must continually test them to guarantee that they are truly of Him, and not simply our own earthly ambitions.
Whenever a new goal comes to Dr. Stanley's mind, the first thing he asks is, Will I be a better person for setting and accomplishing this goal? It is extremely important to think of the long-term consequences! Too often, we want something because it will make us happy in the short term. Believers need to think months and years down the road. Doing so will allow us to see whether our goals will contribute to the overall growth God desires in us.
Consider your personal goals. What is the motivation? Is it money, power, or prestige? There's nothing inherently wrong with these things. They, too, can be used for God's glory. But will money make you a better person? No. Will influence or notoriety? No. These may be indirect consequences of achieving godly goals, but they are not the goals themselves.
Remember, the Lord is much more interested in your long-term development than in your short-term comfort. If your goals don't increase your spiritual maturity, then you must question whether or not they are truly of God. And if they are not, then be wise, and ask Him for the strength to let them go.
FEATURED RESOURCE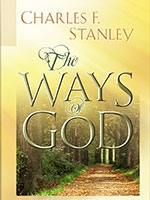 The Ways of God
from Dr. Charles Stanley
God's ways are always perfect, and following them leads to fulfillment and success. One of life's undeniable truths is that your choices will ultimately determine your future. While you can decide for yourself what career field to enter or who to marry, nothing compares with seeking God first and relying on the wonderful principles of His Word. In this series, Dr. Stanley teaches that as you serve God and seek His ways, you'll be blessed with peace, wisdom, and guidance for the journey ahead. Order here  now!
To see more resources from In Touch Ministries, please visit us at www.intouch.org  or go directly to our bookstore at In Touch Ministries.