January 14
The Holy Spirit, Our Guide 
John 16:12-15
In this world, all of God's children are on a journey. And as we travel through life en route to our eternal home, every one of us will face a multitude of choices. Forks in the road and unmarked intersections challenge and frustrate us. In such circumstances, how can we know which way to go?
Jesus promised to give us an internal and ever-present Guide. Starting at the moment of salvation, everyone who trusts in the Savior is indwelt by the Holy Spirit, who promises to lead believers into all the truth. Like a built-in compass, He will direct us exactly the right way, regardless of the choice. He never makes a mistake.
So you may be thinking, If He is living in me and never makes a wrong choice, why do I keep messing up? His leadership is always right, but our reception isn't always clear. Yielding to the Lord is an essential requirement for receiving His direction. We cannot tolerate sin and go our own way in one area and expect to receive His guidance in another.
Sin does to our understanding of God's clear direction what a magnet does to the needle of a compass. If a magnet is placed next to a compass, the needle will point in a multitude of directions. In the same way, sin misleads us.
When a decision is unclear, ask yourself these questions: Will Christ be glorified in this choice? Can I do this in Jesus' name? If either answer is no, don't follow that path, because the Holy Spirit is not guiding you there. His leading always aligns with Scripture and brings glory to Christ.
For more biblical teaching and resources from Dr. Charles Stanley, please visit www.intouch.org.
Click here to watch Dr. Charles Stanley & In Touch Ministries Video Online
and
click here to listen to Dr. Stanley at OnePlace.com.
FEATURED RESOURCE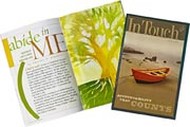 In Touch Magazine
Stories that Inspire, Teaching that Renews
If you like Dr. Charles Stanley's radio program, TV broadcast and books, then you'll love his free, award-winning monthly magazine. It's full of informative resources that will touch your heart and invigorate your faith. Every month, In Touch magazine brings readers daily devotionals from Dr. Stanley, in-depth Bible studies, inspiring articles and insightful teaching to help strengthen your family and your relationship with God. Click below to start your free subscription to In Touch magazine. 

Used with permission from In Touch Ministries, Inc. © 2009 All Rights Reserved.