In Touch Daily Devotional 
by Dr. Charles Stanley
---
January 16, 2007
Fulfilling God's Purposes
God declared, "For I know the plans I have for you, plans to prosper you and not to harm you, plans to give you hope and a future" (Jeremiah 29:11 NIV). Besides goal-setting, five steps are needed to fulfill His purposes.
First, maintain a cooperative spirit. Working well with others is a key to achieving our goals.  We must set aside our stubborn pride and develop a servant-like spirit that willingly cooperates with others. Give-and-take is essential in relationships.
Second, exercise courage. God may ask us to work with difficult people, separate ourselves from certain situations, or take assignments that seem overwhelming. Each circumstance requires us to exercise courage and move forward.
Third, demonstrate persistence. We must have a determined mind and tenacious spirit in order to overcome temptation, adversity, discouragement, or personal failure.
Fourth, exhibit a controlled attitude. Having a Christ-centered, hopeful attitude is essential to success. When negative thoughts, doubts, and fears surface, turn to God and reflect on His all-encompassing love and good purposes. Don't allow pessimistic thoughts and emotions to overtake your mind.
Finally, consciously depend upon God.  We must rely on Him for wisdom, guidance, and the spiritual training we need to carry out His plans. Self-reliance and independent action will lead us astray every time. 
As the Lord's servants, we're to carry out His purposes and plans, not ours.  Check that your goals line up with God's.
FEATURED RESOURCE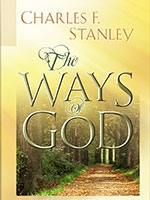 The Ways of God
from Dr. Charles Stanley
God's ways are always perfect, and following them leads to fulfillment and success. One of life's undeniable truths is that your choices will ultimately determine your future. While you can decide for yourself what career field to enter or who to marry, nothing compares with seeking God first and relying on the wonderful principles of His Word. In this series, Dr. Stanley teaches that as you serve God and seek His ways, you'll be blessed with peace, wisdom, and guidance for the journey ahead. Order here  now!
To see more resources from In Touch Ministries, please visit us at www.intouch.org  or go directly to our bookstore at In Touch Ministries.