In Touch Daily Devotional
by Dr. Charles Stanley
---
January 21, 2008 – The Joy of Obedience – Luke 5 
            An ordinary day turned into a divine adventure for Simon Peter because of his obedience. He agreed to two seemingly insignificant requests, which led to blessings for himself and others. 
            Peter had spent his night as he usually did—fishing—but he hadn't caught anything. After such unproductive labor, he was no doubt tired, frustrated, and ready to go home. However, Jesus asked to borrow his boat so He could preach to the crowd. Peter knew there were other boats around, but Jesus asked for his. Wisely, he agreed. 
            God's requests can come at inopportune moments or when we least expect them. We may be tempted to let someone else respond, thinking that it won't matter who answers His call. But remember that God's plans are always for our spiritual good (Jeremiah 29:11). 
            Jesus' second request—to spread the nets again—involved Peter's livelihood. The fisherman replied, "Master, we worked hard all night and caught nothing, but I will do as You say and let down the nets" (Luke 5:5). Peter's obedience led to nets that overflowed with fish. By saying yes to the Lord's plan, he experienced both material and spiritual blessings which affected his colleagues as well as their families. The benefits far outweighed any effort or inconvenience. 
            Obeying God—even in the areas where we feel knowledgeable and skilled enough to handle matters ourselves— is essential to enjoying His rewards and extending them to others. What is the Lord asking of you?
FEATURED RESOURCE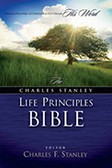 The Life Principles Bible
This Bible combines the wisdom of Scripture with the principles that guide Dr. Stanley's life and empower his ministry. Order your copy.
To see more resources from In Touch Ministries, please visit us at www.intouch.org or go directly to our bookstore at In Touch Ministries.