January 9-10
The Struggle with Doubt 
James 1:2-8
The Bible teaches us to walk by faith, having full confidence in God. Yet many people are burdened by doubt. Even believers, who have been saved by faith, can waver in their trust.
For example, there are Christians who back out of their commitment to a ministry. Though originally led to serve in this capacity, they may question whether they have the necessary ability. Lack of assurance is also displayed when financial concerns lead a believer to stop tithing.
Doubt started in the garden of Eden when Satan introduced a question in Eve's mind: Wouldn't eating the forbidden fruit bring special benefits? And to this day, the Deceiver still whispers lies that can cause Christians' trust to falter. He will utilize any of the following to erode our confidence in God: ignorance of Scripture, temptation to sin, feelings of guilt, a stronger focus on circumstances than on Christ, and the negative viewpoint of others. All of these inhibit the ability to see truth clearly and to stand firmly upon it.
While a doubter is characterized by negativity, uncertainty, and instability, a believer with full trust in God walks in absolute confidence—decisive, dependent upon the Word, and capable of enduring, even when circumstances seem gloomy.
The Christian walk should be characterized by faith, not doubt. Have you prayed for something but questioned whether the Lord would answer—or disbelieved He would actually do something He promised in Scripture? Resist doubt, and take hold of the unshakeable confidence God offers.
For more biblical teaching and resources from Dr. Charles Stanley, please visit www.intouch.org.
Click here to watch Dr. Charles Stanley & In Touch Ministries Video Online
and
click here to listen to Dr. Stanley at OnePlace.com.
FEATURED RESOURCE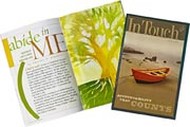 In Touch Magazine
Stories that Inspire, Teaching that Renews
If you like Dr. Charles Stanley's radio program, TV broadcast and books, then you'll love his free, award-winning monthly magazine. It's full of informative resources that will touch your heart and invigorate your faith. Every month, In Touch magazine brings readers daily devotionals from Dr. Stanley, in-depth Bible studies, inspiring articles and insightful teaching to help strengthen your family and your relationship with God. Click below to start your free subscription to In Touch magazine. 

Used with permission from In Touch Ministries, Inc. © 2009 All Rights Reserved.