In Touch Daily Devotional 
by Dr. Charles Stanley
---
January 09, 2007 
How to Set Right Priorities
The Scriptures contain many examples of men and women who had misplaced priorities. Often, they are otherwise godly people who had a momentary lapse in judgment. This should serve as a warning for every believer to consider the importance of holding onto wrong thoughts and desires.
For good purposes or bad, we set priorities in one of three ways: 1) by evaluating which things ought to carry the most importance; 2) by giving in to pressure and letting people or circumstances dictate how we should prioritize; or 3) by drifting into habits and modes of thinking that become a way of life.
Drifting should be avoided by wise believers because it can lead to a life that feels meaningless. Priorities should be in place before we face challenging circumstances and people. That way, we can be firm in our commitment. The only practical choice, then, is to prioritize on purpose. We do that by setting a goal to live according to God's purpose and plan. The priorities we choose are determined by what we value.
But sometimes, "putting first things first" can be frustrating since there are so many things to distract us.  If we a right relationship with God is our highest priority, then those actions and thoughts that strengthen our connection with Him will be the most important. We need to be disciplined in following our goals because living purposefully is seldom easy. The good news is that God knows our heart, and He will honor our sincere attempts to put Him first.
FEATURED RESOURCE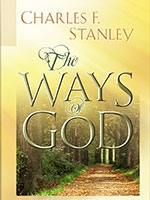 The Ways of God
from Dr. Charles Stanley
God's ways are always perfect, and following them leads to fulfillment and success. One of life's undeniable truths is that your choices will ultimately determine your future. While you can decide for yourself what career field to enter or who to marry, nothing compares with seeking God first and relying on the wonderful principles of His Word. In this series, Dr. Stanley teaches that as you serve God and seek His ways, you'll be blessed with peace, wisdom, and guidance for the journey ahead. Order here  now!
To see more resources from In Touch Ministries, please visit us at www.intouch.org  or go directly to our bookstore at In Touch Ministries.