July 1, 2009
The Day of the Lord 
2 Peter 3:3-18
Today's passage is about what Peter calls "the day of the Lord." He's not referring to a 24-hour interval but rather a season of time. Certain events within that period lead up to Jesus Christ establishing a new heaven and earth. For instance, living saints are raptured into heaven while the bodies of dead believers are resurrected. Those days will also be when the Antichrist rises to power and tribulation fills the earth. But at the end, Jesus returns victorious to judge the world.
Some people claim that we are already in the tribulation period, but that is not the case. It will be a time of God's judgment upon the earth, and the church need not endure that. We are destined for salvation rather than for wrath (1 Thess. 5:9). The trials and hardship spreading around the earth today are "merely the beginning of birth pangs" (Matt. 24:8)—a prelude to the great ordeal yet to come.
The pains of a laboring woman gradually accelerate and intensify. Doesn't that sound like the increasing frequency and potency of heartaches in our world? Jesus warned believers to expect wars, rumors of wars, earthquakes, famine, persecution, and death even before the end times (Luke 21:9-12). These disturbances are among the signs that our redemption is drawing near, though no one knows the exact time (Matt. 24:36).
The day of the Lord will creep up on most of the world's inhabitants like a thief in the night (1 Thess. 5:2). They can't see that events are unfolding according to God's plan. But the church should pay attention and work diligently to reach suffering people with the hope of the gospel (Luke 21:13). 
For more biblical teaching and resources from Dr. Charles Stanley, please visit www.intouch.org
and
click here to listen to Dr. Stanley at OnePlace.com.
FEATURED RESOURCE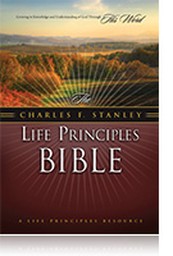 The NASB Life Principles Bible
You can now read the Scriptures in Dr. Stanley's favorite teaching translation -- the New American Standard -- while learning the 30 Life Principles that have guided him for more than 50 years. The new NASB Life Principles Bible will enhance your personal study time through explanation of key passages, plus helpful resources like "Answers to Life's Questions," concordance, maps, and much more. Available in leather and hardcover. 

Used with permission from In Touch Ministries, Inc. © 2009 All Rights Reserved.