July 14, 2009
Spiritual Causes of Discouragement 
1 Chronicles 28:20
Even when we pay attention to the external causes of discouragement, such as relationships, its more subtle intrusions into our lives can take us by surprise. So let's look at some spiritual causes.
1. Satan: a primary instigator. The Enemy's purpose is to cause us to lose heart, think poorly of ourselves, and focus only on the negative.
2. An area of weakness in which Satan has a stronghold—like a tenacious bad habit. This can be especially discouraging because it feels as if we cannot escape the Devil's grip, regardless of what we do.
3. Unanswered prayer. When a prayer is answered "no" or "not now," we can lose hope. Sadly, some quit praying altogether.
4. Prayerlessness. Failing to understand God's sovereignty and timing can lead to this tragic result. When He answers prayer in an unexpected way, some believers get so surprised or irritated that they give up on praying altogether. However, cutting off communication with the Lord is a sure way to move into deeper discouragement.
5. The feeling that you can't please God. This is a tragic consequence of a works-based faith, wherein we believe the Lord's favor is tied to our good works. What a misguided error! Our Father's love is based on His own grace, not our deeds.
It certainly isn't easy to face all the spiritual situations that drain our joy and energy. However, it's crucial that we identify these causes, no matter how painful the process may be. Once we can clearly see the problems, we can begin to learn how to avoid or correct these trouble areas. 
For more biblical teaching and resources from Dr. Charles Stanley, please visit www.intouch.org
and
click here to listen to Dr. Stanley at OnePlace.com.
FEATURED RESOURCE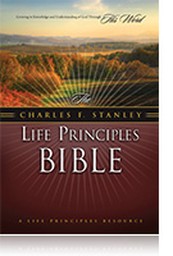 The NASB Life Principles Bible
You can now read the Scriptures in Dr. Stanley's favorite teaching translation -- the New American Standard -- while learning the 30 Life Principles that have guided him for more than 50 years. The new NASB Life Principles Bible will enhance your personal study time through explanation of key passages, plus helpful resources like "Answers to Life's Questions," concordance, maps, and much more. Available in leather and hardcover. 

Used with permission from In Touch Ministries, Inc. © 2009 All Rights Reserved.