Tuesday, July 22, 2008  -  A Mighty Servant of God  - Ephesians 4:17-24
To become God's mighty servants, we must decide whether we'll base our life on His priorities or the world's. The two are incompatible.
Before salvation, people typically live according to whatever the flesh desires. This can include indulging in food, entertainment, and material goods. Our culture promotes self-gratification. It maintains we're each the center of our own universe and we can decide what's right.
Our Savior tells us just the opposite. He commands us to put God first and ourselves last. Jesus tells us to love Him with all our heart and soul. We should deny ourselves and follow Him. Rather than encouraging us to acquire money and possessions. Jesus teaches that giving brings more blessings than receiving.
How can we know we're becoming spiritually stronger? First, we'll be less attracted to the ungodly practices of our world. We'll desire to be more like Jesus.
Second, we'll start replacing ungodly habits with activities that please the Lord. Third, we'll begin to understand some of the deeper biblical truths and apply them in our lives.
And lastly, our spiritual discernment will improve. With the Spirit's help, we'll more easily recognize unrighteous ideas and behavior.
Do you want to become mighty in spirit? If so, then spend time in the Scriptures learning what is important to God. Ask Him to transform you into the person He has designed you to be.
FEATURED RESOURCE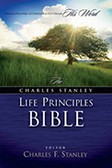 The Life Principles Bible
This Bible combines the wisdom of Scripture with the principles that guide Dr. Stanley's life and empower his ministry. Order your copy.
To see more resources from In Touch Ministries, please visit us at www.intouch.org or go directly to our bookstore at In Touch Ministries.