July 26-27, 2008, The weekend  - Letting God Handle Your Burdens – Matthew 11:28-30
As the Son of Man, Jesus experienced firsthand the difficulties of life and the heaviness of our burdens. He knows what it's like to live with meager financial resources. He felt great emotional distress.
He understands about our broken relationships as well.  Judas Iscariot, one of His disciples, betrayed Him. Our Savior offers to help us with every difficulty we face. In today's passage, we're invited to come to Jesus. We should take His yoke upon us and learn from Him. What He's describing is a lifelong process that encompasses getting to know Him…. His perfect character, His priorities for life, and His plans for us.
For this entire passage to make sense, we must understand the image the Lord is using from Matthew chapter eleven. A yoke is a bar that fits over the shoulders of people or animals. When a heavy load has to be moved, two oxen or other animals carry one yoke. This action distributes the weight evenly across the shoulders of both animals.
In the Christian life, Jesus is asking us to place ourselves under the "yoke" of His lordship. He promises a life of submission to Him will fit us well. It'll provide us with relief. Sometimes God removes the difficulties. At other times, He lifts the burdensome feelings that accompany our trials.
Are you struggling under the pressures of daily living? Come to Jesus, confess your inability to carry this burden alone. Ask Him to lift the weight from you.
FEATURED RESOURCE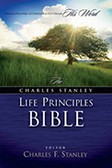 The Life Principles Bible
This Bible combines the wisdom of Scripture with the principles that guide Dr. Stanley's life and empower his ministry. Order your copy.
To see more resources from In Touch Ministries, please visit us at www.intouch.org or go directly to our bookstore at In Touch Ministries.