July 27, 2009
The Land Mine of Insecurity 
Romans 8:33-39
If someone were to ask, "Do you feel good about yourself?" what would you say? Would your thoughts be filled with all sorts of self-doubt and second-guessing, or would you be able to stand tall and say, "Yes, I do feel good about myself"?
Many people, including believers, cannot say that. They have become so crippled with insecurity that they've surrendered practically every ounce of usefulness in the kingdom of God. This is one of the deadliest dangers in the Christian life, and it can creep into our hearts and minds without our knowing—until it's too late.
You see, there are many landmines that explode dramatically, such as sexual sin, unforgiveness, and fear. But insecurity is different. It's more like a slow-burning flame sitting just beneath the surface, affecting everything about your life and subtly destroying you from the inside. This issue may be harder to identify, but it's as dangerous a landmine as any other we could discuss.
What do we mean by "insecurity"? It's a feeling of inadequacy, compounded by a sense of complete helplessness, purposelessness, disapproval, or rejection. All of these things can add up and weigh us down terribly if we do not learn how to identify insecurity and then filter it out of our lives.
Spend time today in earnest prayer and honest self-discovery. Ask the heavenly Father to shine His light on any area of insecurity that may be lurking in your heart. Then, request that He remind you in a powerful, glorious way just how special you are in His eyes.
For more biblical teaching and resources from Dr. Charles Stanley, please visit www.intouch.org
and
click here to listen to Dr. Stanley at OnePlace.com.
FEATURED RESOURCE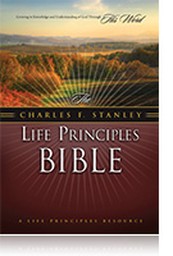 The NASB Life Principles Bible
You can now read the Scriptures in Dr. Stanley's favorite teaching translation -- the New American Standard -- while learning the 30 Life Principles that have guided him for more than 50 years. The new NASB Life Principles Bible will enhance your personal study time through explanation of key passages, plus helpful resources like "Answers to Life's Questions," concordance, maps, and much more. Available in leather and hardcover. 

Used with permission from In Touch Ministries, Inc. © 2009 All Rights Reserved.