July 3, 2009
Praying Past Our Attitude 
Proverbs 16:5
Few things impact our ability to hear the Lord's voice more than our attitude. If we come to God as rebellious, proud, or self-sufficient, what should we expect to hear? The truth is, we're not going to hear much of anything.
Why? It is because our whole attitude is completely slanted away from God. We cannot expect to see Him if we are looking in the opposite direction. So we need to reexamine the way that we approach Him. Specifically, we should be aware of three crucial areas.
First, we must come to the Lord submissively, bowing before Him in humility and thanking Him for His accessibility. Pride is something that God absolutely hates (Prov. 16:5). He will not allow us to enter His presence with arrogance in our hearts.
Second, we must trust God, knowing that He will guide us in the right direction and never steer us down a wrong path. Remembering His past faithfulness can grow our trust.
Third, we must be thankful in our speech and mindset, showing Him that we recognize and appreciate the innumerable blessings He has bestowed upon us. We should demonstrate, as the saying goes, "an attitude of gratitude."
If we come to the throne of God in submission, trust, and gratitude, then we are going to hear the truth from our caring Father. Otherwise, we may miss His message. Prayerfully search your heart in these three areas today, asking the Lord to realign your heart and mind to His perfect will. 
For more biblical teaching and resources from Dr. Charles Stanley, please visit www.intouch.org
and
click here to listen to Dr. Stanley at OnePlace.com.
FEATURED RESOURCE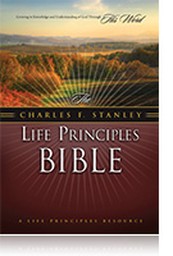 The NASB Life Principles Bible
You can now read the Scriptures in Dr. Stanley's favorite teaching translation -- the New American Standard -- while learning the 30 Life Principles that have guided him for more than 50 years. The new NASB Life Principles Bible will enhance your personal study time through explanation of key passages, plus helpful resources like "Answers to Life's Questions," concordance, maps, and much more. Available in leather and hardcover. 

Used with permission from In Touch Ministries, Inc. © 2009 All Rights Reserved.