July 31, 2009
Heaven's Citizens Living in the World

Romans 12Believers are set apart. The Greek word for "church" is ekclesia—ek meaning "out of" and clesia meaning "called ones." While we live, work, and play in human society, our allegiance and devotion is directed correctly toward Jesus Christ instead of the ruler of this world, Satan. 

It's important to know what our separation doesn't mean. First, the church must not isolate itself. As Christians, we are to be like light in our dark communities (Matt. 5:14). Light reveals the safe way to go; without it, we feel cut off and fearful. Second, believers cannot rely on their own efforts to overcome the world. Following a list of spiritual dos and fleshly don'ts will wear a person out—and usually results in failure anyway. We are victorious through faith in Jesus Christ. God takes the newly saved out of Satan's realm and places them in His own kingdom. 

Although God and Christ have done the hard work, their followers cannot continue to do what comes naturally. We must live in this world without conforming to it. Instead, we're to be transformed through the renewing of our minds (Rom. 12:2). If our mind is still camped in the world order, our body cannot help but follow it—then we end up dirtied by corrupt choices, and our relationships and testimony suffer. 

Learn what it means to be set apart. Others should notice a difference in our character and conduct when comparing us to the rest of the world. What they ought to see are biblical principles at work. But we can look like kingdom dwellers only when we are training our minds to think like the King. 
For more biblical teaching and resources from Dr. Charles Stanley, please visit www.intouch.org
and
click here to listen to Dr. Stanley at OnePlace.com.
FEATURED RESOURCE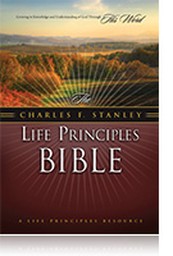 The NASB Life Principles Bible
You can now read the Scriptures in Dr. Stanley's favorite teaching translation -- the New American Standard -- while learning the 30 Life Principles that have guided him for more than 50 years. The new NASB Life Principles Bible will enhance your personal study time through explanation of key passages, plus helpful resources like "Answers to Life's Questions," concordance, maps, and much more. Available in leather and hardcover. 

Used with permission from In Touch Ministries, Inc. © 2009 All Rights Reserved.