In Touch Daily Devotional
by Dr. Charles Stanley
---
June 11, 2007 – The Godly Father –
Colossians 3:18-21
A serious problem plaguing American families is the absence of godly fathers. A lopsided percentage of today's young people are angry, rebellious, and indifferent. The primary reason is the lack of a strong and loving dad in their lives. Good fathers have a positive relationship with their children. The godly father is conscious of the impact his presence has on his family. And he's considered the consequences of walking away from them.
A father's presence gives his family security. He provides not only physical and emotional support to Mom and the kids, but guidance and leadership as well. Even a father who struggles with these things, or one who feels he's failed somehow, is better for his family than no father at all.
A father is his child's first view of what God is like. If dad's around in everyday life, then it's easier for his children to understand God's daily presence. Dr. Stanley's father died when he was a baby. He didn't have a sense of security for many years. In his mind, God was distant—far away in heaven. Dr. Stanley was already a pastor before he truly realized God's daily presence in his life.
If you're a father, you have a God-given responsibility to remain with your family and help raise your children. This is true, regardless of personal failures, marital difficulties, or any other reason. Dr. Stanley challenges you to be the man you should be, a godly father committed to raising godly children.
FEATURED RESOURCE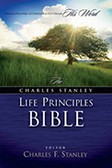 The Life Principles Bible
This Bible combines the wisdom of Scripture with the principles that guide Dr. Stanley's life and empower his ministry. Order your copy.
To see more resources from In Touch Ministries, please visit us at www.intouch.org or go directly to our bookstore at In Touch Ministries.