June 18 
The Father's Good Gifts 
Matthew 7:7-11
Today's passage contains one of God's most generous assurances to us. Not only are we granted permission to come to Him with our requests, but He also promises to answer our prayers. However, you may be thinking, If this is true, why hasn't He given me what I asked?
Verses 9-11 hold the key to understanding this passage: "What man is there among you who, when his son asks for a loaf, will give him a stone? . . . If you, then, being evil, know how to give good gifts to your children, how much more will your Father in heaven give what is good to those who ask Him!" Think in terms of parenting. A child may want the latest video game, but his parent knows that a different gift would be better for him. In the same way, the God who made us is more keenly aware of our needs than we are (Matt. 10:30).
Because of spiritual immaturity or the limitations of our humanity, we may ask for what we perceive as good and necessary, when it isn't truly in our best interest. But our loving Father gives what He knows is more beneficial. Many of His gifts are the intangible qualities of a Christlike character, which develops through trials and testing. We may feel He's given us a snake instead of a fish, but the problem is with our lack of understanding, not with God's goodness.
When it seems that the Lord isn't answering your requests, remember that He's a loving Father, and consider what good gifts He is giving instead. Although it may take years to gain an adequate perspective, in time you'll say, "Lord, You were right. Thank You for giving me exactly what I needed." 
For more biblical teaching and resources from Dr. Charles Stanley, please visit www.intouch.org.
Watch Online Videos of Dr. Charles Stanley and In Touch Ministries at LightSource.com
and
Listen to Dr. Charles Stanley Online Broadcasts at OnePlace.com.
FEATURED RESOURCE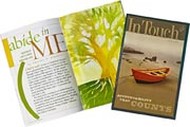 In Touch Magazine
Stories that Inspire, Teaching that Renews
If you like Dr. Charles Stanley's radio program, TV broadcast and books, then you'll love his free, award-winning monthly magazine. It's full of informative resources that will touch your heart and invigorate your faith. Every month, In Touch magazine brings readers daily devotionals from Dr. Stanley, in-depth Bible studies, inspiring articles and insightful teaching to help strengthen your family and your relationship with God. Click below to start your free subscription to In Touch magazine. 

Used with permission from In Touch Ministries, Inc. © 2009 All Rights Reserved.