June 19-20
A Faith Worth Passing Down 
2 Timothy 1:3-7 
The word "inherit" may bring to mind cash and possessions—or even genetic and personality traits. Yet the Bible talks about something else that can be passed down to the next generation, and it is the most precious thing we have: our faith.
In today's passage, Paul writes to Timothy about faith worth passing down—namely, that which is based on the truth of God's Word. It is the confident conviction that God is who He says He is and will do everything He says He will do. The apostle notes that the younger man's sincere faith did not materialize out of thin air, but in fact was evident in his lineage (v. 5).
There are many ways to hand down a rich legacy of faith to the next generation:
1. Share basic biblical principles. Kids must be taught the proper attitude about money (Ps. 24:1), how needs are fulfilled (Phil. 4:19), and direction in life (Pro. 3:5-6).
2. Model through lifestyle. How we live—with transparency, peace, and persistence or fear, doubt, and frustration—sends a loud message about whether God can be trusted.
3. Serve God by serving others. If we act on our faith, we show it is real (James 2:26).
4. Pray and praise. Children won't forget hearing us speak their names in prayer. And when we praise them for trusting the Lord, they will be motivated to do so again.
Parents should be intentional about passing down faith to their sons and daughters. But even the childless have opportunity to leave this godly legacy to the next generation of believers. Paul nurtured new Christians as
a father would his children, and he encourages us to imitate him (1 Cor. 4:14-16).
Extra column: a hymn about the influence of Christian parents
Happy the Home When God Is There
Happy the home 
            when God is there 
And love fills everyone 
When with united work 
            and prayer 
The Master's will is done.  
Happy the home 
            where God's strong love 
Is starting to appear, 
Where all the children 
            hear His fame 
And parents hold Him dear.
Happy the home 
            where prayer is heard 
And praise is everywhere, 
Where parents love 
            the sacred Word 
And its true wisdom share.  
Lord, let us 
            in our homes agree 
This blessed peace to gain; 
Unite our hearts 
            in love to Thee, 
And love to all will reign. 
            Amen.
Text: Henry Ware, Jr., revision by Bryan Jeffery Leech 
© 1976 Fred Bock Music Co. 
Used by permission.
For more biblical teaching and resources from Dr. Charles Stanley, please visit www.intouch.org.
Watch Online Videos of Dr. Charles Stanley and In Touch Ministries at LightSource.com
and
Listen to Dr. Charles Stanley Online Broadcasts at OnePlace.com.
FEATURED RESOURCE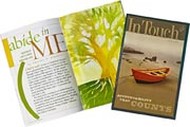 In Touch Magazine
Stories that Inspire, Teaching that Renews
If you like Dr. Charles Stanley's radio program, TV broadcast and books, then you'll love his free, award-winning monthly magazine. It's full of informative resources that will touch your heart and invigorate your faith. Every month, In Touch magazine brings readers daily devotionals from Dr. Stanley, in-depth Bible studies, inspiring articles and insightful teaching to help strengthen your family and your relationship with God. Click below to start your free subscription to In Touch magazine. 

Used with permission from In Touch Ministries, Inc. © 2009 All Rights Reserved.