June 2 
God's Amazing Promise 
Luke 12:22-32
Anxiety is reaching epidemic proportions in our culture. As believers, however, we are commanded not to worry (v. 22). Instead, we're to rely on a conditional promise from our heavenly Father: If we will seek His kingdom, all our needs will be provided (v. 31). This is the opposite of the world's philosophy, which tells us to pull ourselves up by our bootstraps and do what we can to meet our own needs. What a relief to rely on the sovereign King of all creation instead of our meager strength.
Consider these qualities of our King:
• He keeps His word. Every promise is backed by His divine nature. According to Titus 1:2, God cannot lie. He never makes a promise that He won't keep.
• He is all-knowing. Our heavenly Father is mindful of all our needs—the ones we bring to Him in prayer as well as those of which we are unaware.
• He is all-powerful. The sovereign Ruler of the universe backs His promises with almighty power. "Nothing will be impossible with God" (Luke 1:37).
• He cares. God's provision for birds and flowers is proof of His even greater care for those who are made in His image. Not only is He able to meet our needs, but He also wants to provide for us.
Will you believe God, seek His kingdom, and rest in the peace that passes understanding? Or will you doubt Him and live with the anxiety of not being sure your needs will be met? The promise is given, the fulfillment is certain, and now the choice is yours.
For more biblical teaching and resources from Dr. Charles Stanley, please visit www.intouch.org.
Watch Online Videos of Dr. Charles Stanley and In Touch Ministries at LightSource.com
and
Listen to Dr. Charles Stanley Online Broadcasts at OnePlace.com.
FEATURED RESOURCE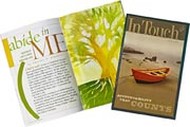 In Touch Magazine
Stories that Inspire, Teaching that Renews
If you like Dr. Charles Stanley's radio program, TV broadcast and books, then you'll love his free, award-winning monthly magazine. It's full of informative resources that will touch your heart and invigorate your faith. Every month, In Touch magazine brings readers daily devotionals from Dr. Stanley, in-depth Bible studies, inspiring articles and insightful teaching to help strengthen your family and your relationship with God. Click below to start your free subscription to In Touch magazine. 

Used with permission from In Touch Ministries, Inc. © 2009 All Rights Reserved.