In Touch Daily Devotional
by Dr. Charles Stanley
---
June 2 & 3, 2007 – The Hard-Hearted Believer –
Hebrews 3:12-19
The believer's path toward a hardened heart starts innocently enough. It's easy to preoccupy ourselves with things that have little or no spiritual value. Once our focus turns away from God, it doesn't take much for the distraction to use up greater amounts of time. We can become so absorbed in the diversion that we ignore spiritual matters.
As our spiritual life suffers, we may give up private devotion and public worship. Anyone who spends time daily with the Lord will have a receptive heart. But the person who lays aside God's Word gives Satan an opportunity. When we function apart from the Lord, our hearts can become deceitful and rebel against Him.
A believer's mind can easily be swayed by the deceitfulness of sin when he has a preoccupied mind and a distant heart. His sensitivity to the Holy Spirit dulls from the hard "shell" forming around his heart. As a result, the drifting Christian begins to find Satan's false promises more tempting. He foolishly trusts in the deception and becomes more involved in sin. This leads to even greater preoccupation with non-spiritual matters. And, sadly, further neglect of his spiritual life.
Believers aren't immune to a hardened heart. We can become as insensitive to God's voice as an unbeliever. But we have a way to remove the spiritual callus forming within us. By repenting and refocusing, we can return to devotion and worship and remain soft-hearted before God.
FEATURED RESOURCE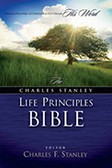 The Life Principles Bible
This Bible combines the wisdom of Scripture with the principles that guide Dr. Stanley's life and empower his ministry. Order your copy.
To see more resources from In Touch Ministries, please visit us at www.intouch.org or go directly to our bookstore at In Touch Ministries.