June 25, 2009
The Key to Enduring Hardship 
Romans 8
Yesterday we looked at the life of a man who kept his focus on the Lord. Joseph learned the principle behind Romans 8:28 long before Paul wrote it down: God works everything for the believer's good. Our responsibility is to keep our eyes on Him instead of looking fearfully at circumstances.
The Father promises to love (Rom. 5:8), provide for (2 Cor. 9:8), and guide His children (Prov. 16:9). Risk-free and pain-free lives are not part of the guarantee. Instead, the Holy Spirit accompanies saints through trials and provides strength, wisdom, and courage. I counsel with people who can think up 25 reasons why God's assurances do not apply to their situation. But I can give one solid reason to believe: Wavering faith does not negate a single promise of God's. If you turn your eyes to Him, He will bring you safely through hardship.
When our hearts and minds are agitated because of turbulent events, it's hard not to stare at circumstances in horror or confusion. But we must decide to believe what the Bible says about who God is and what He will do. That choice forces our attention off the storm and onto the One responsible for ushering us safely through. In His presence, fears dwindle and doubts dissolve to be replaced by peace and a sense of oneness with the Lord.
Note that I did not say the hardship ends when we call upon the Lord. We must be willing to state, "This is where God wants me." He has a reason for you to face discomfort and trial—as well as a way to grow you through it. Whatever the situation, the safest place in the world is the center of His will.
For more biblical teaching and resources from Dr. Charles Stanley, please visit www.intouch.org
and
click here to listen to Dr. Stanley at OnePlace.com.
FEATURED RESOURCE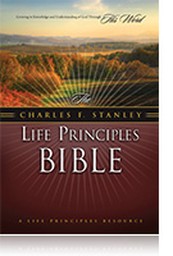 The NASB Life Principles Bible
You can now read the Scriptures in Dr. Stanley's favorite teaching translation -- the New American Standard -- while learning the 30 Life Principles that have guided him for more than 50 years. The new NASB Life Principles Bible will enhance your personal study time through explanation of key passages, plus helpful resources like "Answers to Life's Questions," concordance, maps, and much more. Available in leather and hardcover. 

Used with permission from In Touch Ministries, Inc. © 2009 All Rights Reserved.