In Touch Daily Devotional
by Dr. Charles Stanley
---
June 26, 2007 – Times of Temptation – 1 Corinthians 10:6-13
            The Scriptures teach that every one of us will occasionally be tempted to do the opposite of what God commands. The circumstances we face aren't unique. Others have faced similar situations. As we learned yesterday, we can "H.A.L.T." some of our times of weakness. You can prevent becoming too hungry, angry, lonely or tired by eating regularly, experiencing God's peace, fellowshipping with others, and getting enough rest.
            But where does the urge to sin come from? The source of temptation is the culture, the Devil, or something within ourselves. The world wants us to join its sensual, selfish pursuits. Satan wants to turn us away from God. And our sin nature wants us to be in control, not the Lord.
            Does God ever tempt us? No. James 1:13 says our Father doesn't want us to do evil. But He will test us to reveal our motives and attitudes. And He also uses times of testing to mature us and transform us into Christlikeness. His work is always for our good.
            Is it sinful to experience temptation? No. Feeling tempted isn't the same as committing a sin. The Devil tempted Jesus at a time of great weariness and physical need He had spend 40 days in the desert without food. Don't judge yourself harshly when you feel tempted toward ungodliness. Only when you act upon it do you cross the line into sin.
            The Lord knows exactly how to rescue us in times of temptation. How good are you at responding to His direction?
FEATURED RESOURCE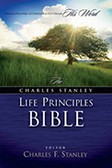 The Life Principles Bible
This Bible combines the wisdom of Scripture with the principles that guide Dr. Stanley's life and empower his ministry. Order your copy.
To see more resources from In Touch Ministries, please visit us at www.intouch.org or go directly to our bookstore at In Touch Ministries.