June 27-28, 2009
Only Obedience Will Do 
1 Samuel 15
The most obvious way to step out of God's will is to commit deliberate sin. In fact, this is so apparent that you might wonder why I'm pointing it out. The reason is that I often hear believers try to justify partial obedience.
King Saul made plenty of excuses for ignoring the Lord's instructions. God ordered the Israelites to utterly destroy the Amalekites and all their holdings. Instead, they spared the choicest beasts as well as the leader, Agag. Pleased with himself, Saul announced to Samuel that he had done as commanded, but the people kept a few animals (v. 15). He tried to blame others; however, a king's subjects cannot act in so brazen a manner without his knowledge and permission.
Saul didn't stop with just one justification. He argued that the animals were saved to be sacrifices for God. He must have sounded so righteous to his own ears. But Samuel was not fooled. He called Saul's action by its proper name—insubordination (v. 23).
Our reasons for partial obedience may sound logical, but we are still in rebellion. Excuses and justifications won't sway God in the slightest. He does not alter His will to accommodate human desires or "common sense." Instead He looks for and takes delight in a faithful follower.
Are you trying to rationalize some decision or behavior? Perhaps you've offered good reasons for pursing a chosen path. Or maybe you tried bargaining with God. I assure you that He is not moved by any arguments. Remember: Partial obedience is actually disobedience in His eyes. And no sin is worth being outside His will. 
For more biblical teaching and resources from Dr. Charles Stanley, please visit www.intouch.org
and
click here to listen to Dr. Stanley at OnePlace.com.
FEATURED RESOURCE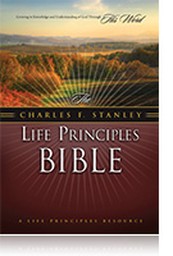 The NASB Life Principles Bible
You can now read the Scriptures in Dr. Stanley's favorite teaching translation -- the New American Standard -- while learning the 30 Life Principles that have guided him for more than 50 years. The new NASB Life Principles Bible will enhance your personal study time through explanation of key passages, plus helpful resources like "Answers to Life's Questions," concordance, maps, and much more. Available in leather and hardcover. 

Used with permission from In Touch Ministries, Inc. © 2009 All Rights Reserved.