In Touch Daily Devotional
by Dr. Charles Stanley
---
June 6, 2007 – The Family Influence – 1 Kings 15:8-35
            The environment in which a child grows up affects his entire life. The family dynamic, particularly the parents' behavior, impacts his perception of himself, his neighbors, and the Lord. Consider King Asa, a man in the royal line. He followed in David's footsteps and pleased God. Compare his story with that of Nadab, who practiced the same evils as his father King Jeroboam and provoked God's anger.
            With those men in mind, we believers must consider what will become of our children if they follow in our ways. We're typically their first example of godly living. This means they should see us praying, reading God's Word, and involved in a community of believers. If we want them to enjoy a relationship with Jesus Christ, they must first see the fruits of our own spiritual walk.
            In daily life, our families should see us turning to God for strength and comfort. Whenever a problem or decision confronts us, the kids should hear about the lessons and guidance in Scripture. At church, children need to see Mom and Dad humbly serving the body of Christ. Parent's actions and speech should always indicate to their children that Jesus Christ is the priority.
            If your want your son or daughter to desire to please God, then you must first live according to His will. Through you, your child witnesses an example that leads him directly to the ultimate example of successful living—Jesus Christ.
FEATURED RESOURCE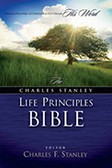 The Life Principles Bible
This Bible combines the wisdom of Scripture with the principles that guide Dr. Stanley's life and empower his ministry. Order your copy.
To see more resources from In Touch Ministries, please visit us at www.intouch.org or go directly to our bookstore at In Touch Ministries.