In Touch Daily Devotional
by Dr. Charles Stanley
---
June 7, 2007 – A Parent's Positive Influence – Colossians 3:23-25
            Yesterday, we focused on the family's influence regarding spiritual matters. Today, let's discuss some vital attitudes also shaped by a parent's example. Relationships, money, and employment usually aren't considered "spiritual issues" because they do not affect our salvation. But the way we approach these three areas of life can still please or displease God.
            When it comes to relationships, Mom and Dad usually try to be vigilant so their children won't fall in with the "wrong crowd." At home, kids should see their parents wisely seeking and choosing their own friends. Then, Mom and Dad should treat those people with grace and love.
            Regarding money, it's vital for kids to witness a right attitude toward finances. They need to know that everything they earn is actually a gift from God. Then, they'll use those resources well. Wise parents teach children the true value of money—it's a means of providing for oneself and blessing others.
            Children need to understand two things about their future career paths. First, God has a plan and will for their life. Second, everything is done for the Lord, regardless of who the human boss is. Mom and Dad should give their best in everything so their children learn to serve God first.
            The world frequently measures success according to relationships, money, and career status. We can teach our children true success is not about having the most money, the best job, or the best-looking spouse. It's about keeping a God-centered attitude in every situation.
FEATURED RESOURCE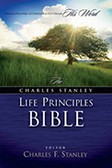 The Life Principles Bible
This Bible combines the wisdom of Scripture with the principles that guide Dr. Stanley's life and empower his ministry. Order your copy.
To see more resources from In Touch Ministries, please visit us at www.intouch.org or go directly to our bookstore at In Touch Ministries.