June 9 
Open Up to Others 
2 Corinthians 6:11-13
Social networking is big business. Things like Facebook, e-mail, and texting reveal our hunger to connect with one another, yet many people still feel lonely. The fall of Adam and Eve usually brings to mind the disconnection that sin created between God and mankind, but it also affected all human relationships from that time onward. As a result, fear and pride threaten to keep us in bondage to isolation and self-protection.
Surprisingly, many homes, workplaces, and churches are gatherings of strangers. Even husbands and wives can live in the same house without really knowing each other. Being able to list many facts about those we live and work with is not the same as really knowing them. To some degree, whether we are known by others is our responsibility. Even the friendliest person may not be able to penetrate someone else's self-erected walls. To be known, we must risk opening up and letting others in. 
Paul pled with the Corinthians to open up to him as he had to them. Because they'd built emotional walls, their relation-ship with him and their effectiveness as a church were hindered. Of all people, believers are called to live in open honesty and accountability with one another. We cannot shut everybody out and expect to have an open relationship with God.
Relational walls can be hard to recognize. Unforgiveness, a sense of unworthiness, and fear of rejection are common reasons for self-protective barriers. Ask God to reveal any ways that you're shutting someone out. He will help you demolish all hindrances to your relationship with Him and others.
For more biblical teaching and resources from Dr. Charles Stanley, please visit www.intouch.org.
Watch Online Videos of Dr. Charles Stanley and In Touch Ministries at LightSource.com
and
Listen to Dr. Charles Stanley Online Broadcasts at OnePlace.com.
FEATURED RESOURCE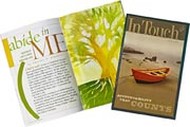 In Touch Magazine
Stories that Inspire, Teaching that Renews
If you like Dr. Charles Stanley's radio program, TV broadcast and books, then you'll love his free, award-winning monthly magazine. It's full of informative resources that will touch your heart and invigorate your faith. Every month, In Touch magazine brings readers daily devotionals from Dr. Stanley, in-depth Bible studies, inspiring articles and insightful teaching to help strengthen your family and your relationship with God. Click below to start your free subscription to In Touch magazine. 

Used with permission from In Touch Ministries, Inc. © 2009 All Rights Reserved.