March 1
Righteous Redemption 
Romans 3:23-24
All people sin against God. When man was created in the garden of Eden, he had a choice to obey or disobey the Lord. At that time, there was only one thing that was off limits, but Adam and Eve chose to partake of the forbidden fruit (Gen. 3:3-6).
Since then, the entire human race has been poisoned by sin. The daily bad choices we make are only symptoms of the bigger problem—our sin nature. But God is so perfectly pure and holy that sin cannot enter His presence. Therefore, we come into this world with an "inherited" condition of separation from the Father.
Scripture states that sin's punishment is eternal death, and there's nothing we can do to correct the problem. In other words, left to fend for ourselves, we are doomed. Each of us desperately needs redemption.
So God, in His amazing love for us, sent His only Son as the solution to our problem. Fully man yet fully God, Jesus lived a perfect life and then gave His life for our sake. He deserved glory but instead took our sin upon Himself and endured excruciating suffering and separation from His Father. Why would He submit to such torture? Christ took our place and our punishment. He allowed Himself to die a criminal's death on the cross to save each of us. Three days later, He rose to life again, conquering sin and death.
Jesus, in His love, overcame our dreadful fate and offered us eternal life instead. This free gift is available to you. Simply believe that Christ is Lord, He died on the cross for your sin, and He rose from the grave. Don't wait to accept this great salvation—commit to following Him today.
For more biblical teaching and resources from Dr. Charles Stanley, please visit www.intouch.org.
Click here to watch Dr. Charles Stanley & In Touch Ministries Video Online
and
click here to listen to Dr. Stanley at OnePlace.com.
FEATURED RESOURCE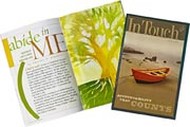 In Touch Magazine
Stories that Inspire, Teaching that Renews
If you like Dr. Charles Stanley's radio program, TV broadcast and books, then you'll love his free, award-winning monthly magazine. It's full of informative resources that will touch your heart and invigorate your faith. Every month, In Touch magazine brings readers daily devotionals from Dr. Stanley, in-depth Bible studies, inspiring articles and insightful teaching to help strengthen your family and your relationship with God. Click below to start your free subscription to In Touch magazine. 

Used with permission from In Touch Ministries, Inc. © 2009 All Rights Reserved.