March 11
Feeling Hopeless 
Acts 27:10-25
Jesus told His disciples that we would have tribulation in this life (John 16:33). And truly, people do disappoint us, circum-stances cause pain, and our own limitations lead to frustration.
Many Bible stories attest to this truth:
• Hannah was unable to conceive. The longer her yearning for a child went unfulfilled, the more hope dwindled. Sorrow and bitterness took hold of her. (1 Sam. 1:6-10).
• Paul was caught in a violent storm. Against his advice, the ship had set sail, endangering him and all the others on board. After futile efforts to save the vessel, everybody had to swim ashore to survive (Acts 27:11, 20).
• Jealous Saul pursued David throughout the land, trying to kill him. In Psalm 13:1, David wondered if the Lord had forgotten him.
How did these people find their way through such negative emotions? All three spent time in prayer. Hannah cried out to God, confessed her misery, and asked Him to provide her with a son. When she left the temple, her face was no longer downcast. Her hope returned because she trusted Him with her future. Following prayer, Paul witnessed to the hopeless sailors. He told them to have courage because the Lord had promised to deliver them. David turned his attention away from his circumstances and focused on God's unfailing love (Ps. 13:5-6).
Communion with God can combat hopelessness. Prayer moves our attention to the Father's deep love for us, the Son's sacrifice on our behalf, and the Spirit's reassuring presence. If we confess ungodly thoughts and become willing to surrender personal desires, forgiveness and peace will be ours.
For more biblical teaching and resources from Dr. Charles Stanley, please visit www.intouch.org.
Click here to watch Dr. Charles Stanley & In Touch Ministries Video Online
and
click here to listen to Dr. Stanley at OnePlace.com.
FEATURED RESOURCE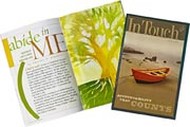 In Touch Magazine
Stories that Inspire, Teaching that Renews
If you like Dr. Charles Stanley's radio program, TV broadcast and books, then you'll love his free, award-winning monthly magazine. It's full of informative resources that will touch your heart and invigorate your faith. Every month, In Touch magazine brings readers daily devotionals from Dr. Stanley, in-depth Bible studies, inspiring articles and insightful teaching to help strengthen your family and your relationship with God. Click below to start your free subscription to In Touch magazine. 

Used with permission from In Touch Ministries, Inc. © 2009 All Rights Reserved.